20 Jan /

10 Reasons Why To Rent A Photo Booth For Your Wedding, Event, Or Party
10 Reasons Why To Rent A Photo Booth For Your Wedding, Event, Or Party
Photo booths rental companies are popping up everywhere. From weddings to baby showers and celebrity events, they're the perfect addition to any party entertainment. If you're contemplating a photobooth for your next event, but not really sure how it works—here are 10 fabulous reasons to justify renting a photo booth for pretty much any occasion.
Photo booths are totally affordable.
The rise in popularity has made photo booths accessible for any special occasion. The average photo booth rental cost is $500-800, depending on length of time and features you decide on.
Awesome for any occasion
Wedding, corporate events, sweet sixteens, baby showers, bridal parties—these are just some of the events that we suggest. Pretty much any time you gather a group of people together you have a good reason for a photo booth.
Zero work on your end, and rental times flex with your schedule
Packages start with 3 hours and can easily add on hours if you wish. No worries set-up time does not cut into your rental time. A attendant is with the booth the whole time.  Organizing the props, ushering guest, and making sure things run smoothly! Like we said…. Zero work
You can customize photos to match your event.
Want your photo strips to match your wedding pallet? What a Snap Photo Booths can deliver. A custom logo on the bottom of the photo strip to make it more memorable for guests? Done. Get creative and carry your party theme through in little details like these.
You can find a booth that suits your fancy
You have options! We have different type of booths.  Some even customization with full wrap that can represent your company or your event.  Find the booth that works best for your space and the number of guests you're having—then go wild.
It's entertainment and a party favor in one.
We offer unlimited photo strips throughout the rental, so your guest can go cray if they like. Need more? We also offer scrapbooking supplies that guests add to as they go. At the end of the night you'll have a fabulous keepsake with personal messages and shenanigans from the night.
Props always included
What's a photo booth without sassy props? It is standard to provide goofy glasses, masks, hats, and more to get the party rolling. Maybe even your Grandma will wild out!
Social Sharing Kiosk
Not just your typical traditional photo booths anymore, we've gone digital.  Guest can now push their branded photo's on demand to their email, Facebook, or Instagram accounts
You can make it personal
Having one of these at your parties will definitely keep the party live.  Ever event we go to the booth seems to be the center of attraction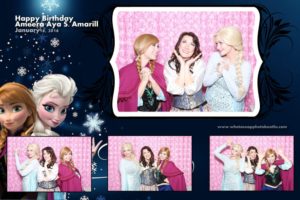 You can make it personal
In addition to custom colors and personalized borders—you can make your party pictures spectacular. Get creative and bring your own awesome props that will give your special event that extra sparkle.
Ready to add a photo booth to your next event?  contact What a Snap Photo Booths for rentals